Bishop Challoner Catholic Federation of Schools celebrated an open air Mass of thanksgiving with Bishop Nicholas Hudson, on the feast day of Ss Peter and Paul, Friday 29th June.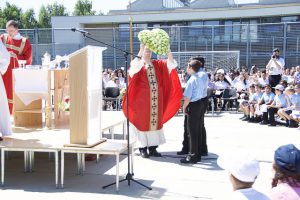 The ground was filled with students and staff beating the hot summer's day with a bottle of water beneath every seat and teachers looking after the pupils. The wooden altar set up in the middle of the ground was built by Regan-Thomas Healy, Head Boy, as his A Level coursework project and exhibited artistic excellence.
Bishop Nicholas in his homily spoke of St Peter being a source of inspiration when we're lost along life's journey: 'Peter is a great saint to call upon if ever you feel lost. He felt lost when he had denied the Lord; he felt lost at the end of his life. But he found it in himself to go where the Lord was leading him and to witness his undying love for Christ.'
The Mass was concelebrated by Fr Keith Stoakes, Fr Willie Skehan, Fr Victor Camilleri OFM, Fr John Moffatt SJ, and served by Deacon Daniel Herrero Peña.
Deacon Daniel, who was ordained a Priest at Westminster Cathedral the following day, was presented with a gift from two of the students to thank him for his work preparing Year 10 students for Confirmation throughout the year.
During the offertory, a Green Heart was offered up to remember those who lost their lives in the Grenfell Tower tragedy last year. The choir encouraged a solemn mood at Communion when they sang a hymn, written by a former teacher of Bishop Challoner Girls' School Sr Teresita Heenan, which is now the school's anthem.
It was a sunny afternoon of prayer and gratitude as students reflected on the academic year that came to a close with Head teacher Richard Fitzgerald commending all the students for being such good pupils, making his first year at the institution a successful one.
Additional photos from the Mass of thanksgiving are available here.