The All Saints Catholic Academy Trust came into being before the Diocesan Academy Strategy was formulated in 2016: St Joan of Arc School in Rickmansworth became an academy and was joined afterwards, as part of the by then up-and-running Diocesan programme, by Divine Saviour, Holy Rood and St John's primary schools.  More recently, the St John Fisher Primary School has received an Academy Order and will be followed in due course by a Hemel Hempstead hub comprising two primaries – St Albert the Great and St Thomas More – an infant school and nursery, St Rose's, and a secondary, John F Kennedy.  This would take the number of schools from four to nine, making the ASCAT the second largest CAT, at present, after DOWAT.  Here, Stephen Wheatley, the Executive Head of Holy Rood and Divine Saviour, and the Interim CEO of ASCAT, and Tony Hall, the Headteacher of St John's, which joined in 2019, give their views on how the CAT has worked.
Stephen, could you explain your own journey from joining ASCAT to assuming the role of Interim CEO?
In many ways, I was engaged in the whole academisation process from the beginning, because discussions on that front coincided with my appointment to the executive headship of Holy Rood and Divine Saviour –  when we were looking at long-term plans for those schools anyway.  This meant that we started looking at these plans through the prism of academisation.  And because St John's was already talking to St Joan of Arc, academisation seemed a logical and natural next step for the primaries.  When we joined the CAT, I took up a standards role across the primaries and that too was a natural springboard for the Interim CEO position I took up when Peter Sweeney took up his wider Diocesan role and had to step back a little from ASCAT.     

What benefits have you seen since the CAT was formed, both in general and with regard to operating during the pandemic?
Stephen: Being in a CAT gives a small single-form primary a louder voice and more leverage.  A really good example is Divine Saviour receiving £500,000 in CIF funding since it's joined ASCAT.  That money's enhanced the school greatly and probably wouldn't have come in if it hadn't been in the CAT.  We didn't have to pay VAT either, which is another advantage.

We've also had benefits in terms of staff development, with individuals taking leading roles across the Trust: there's one overseeing preparations for Section 48 inspections, for example.  These kind of leadership roles, and subject leaders getting together to prepare for Ofsted, trialling new methods and challenging each other in preparation for the inspection itself, allow for opportunities for development and so help retention.

Tony: The real benefit has been the support network, both in terms of formal induction for new heads within the Trust and the broader network of experience for me to draw on.  This was true too of the pandemic, when the feeling of being supported was an enormous help: we shared models of bubbling, as well as policies and procedures and teaching resources.  There was no need for us all the invent the wheel separately from each other.

I also think that the fact that the Interim CEO is a primary head has been a big help, knowing as he does the ins-and-outs of how a small primary works.  It's an extra little bonus. 
How have things changed for the pupils?
Stephen:  A lot hasn't changed for the pupils, and I mean that in a really positive way: the schools all had their own strengths before they academised, but now they have built on them.  Each school's individual identity has been protected and enhanced. 

The pupils have come to see themselves too as part of something bigger and have expressed an interest in meeting children from other schools.  One example of where this has happened are the pupil-led chaplaincy teams from each school meeting each other and the Chaplaincy Lead to share and develop what they do.  There is also a Sporting Lead who works across the schools and enhances provision from the point of view of the pupils and reduces individual schools' overreliance on external sporting companies.

On the Covid front, the schools got together and devised a unified plan across the primaries which enabled equity of provision and capacity across the schools, meaning that no one school lost out in either absolute or comparative terms.  It also meant that more pupils were enabled to return more rapidly than would have been the case if each school had been operating alone.  So in summer 2020, as well as children in Nursery, Reception and Years 1 & 6 returning, the schools were also able to welcome pupils in Years 2, 3, 4 & 5.  This was a big win for the pupils.   

 Tony:  It may sound counterintuitive, but the children probably wouldn't say there's any difference.  There are the same high expectations, strong academic outcomes and emphasis on the Catholic life of the school, but there's a stronger underpinning: we hold each other accountable in the trust as critical friends, sharing advice and expertise.  It makes everything more securely based.    
Tony, how has your job changed since joining the CAT?
I was originally a deputy head at St John's and stepped up to an acting head role at pretty short notice a few years ago.  We worked more and more closely with St Joan of Arc's and as that relationship grew, I became a head of school with Peter Sweeney as an executive head.  The next and natural step was formal academisation in 2019, from which point I've been a substantive headteacher with full and immediate access to a support network of colleagues within the Trust – which has been invaluable.
What advice do you have for anyone considering embarking on the process?
Stephen: For schools where there is a CAT, make contact with it.  Ask your questions and express concerns if you have them.  Challenge them to show you that what they say is true.  But above all, engage.  If there isn't an established Trust, I'd say get in touch with any CAT to find out more about what it's really like.  And do speak to Adrian Leggett [the Academies Implementation Officer]: he's very knowledgeable about MATs and how the conversion process works.

Tony: I'm a total advocate for academisation: the feeling of being part of a network of support and expertise has been a massive plus.  We've built accountability in the Trust together and aren't alone.

 I'd urge colleagues to look carefully into the process and be realistic about expectations.  The benefits of academisation don't happen overnight and work has to be done to get the systems of peer-to-peer support up and running.   But the benefits of shared expertise, in areas such as subject leadership and support and advice are making themselves felt and are well worth the time and effort they entail.      
The Blessed Holy Family Catholic Academy Trust, which comprises four schools in and around Harrow – St George's, St John Fisher and St Joseph's primary schools and the Sacred Heart Language College – formed in May 2019, the first of the Family CATs to come into being following the launch of the Diocesan academy strategy in September 2017.  Its CEO is Geraldine Higgins, head of Sacred Heart.  Here, she and Chris Briggs, the headteacher of St Joseph's, talk about the formation and working of the CAT.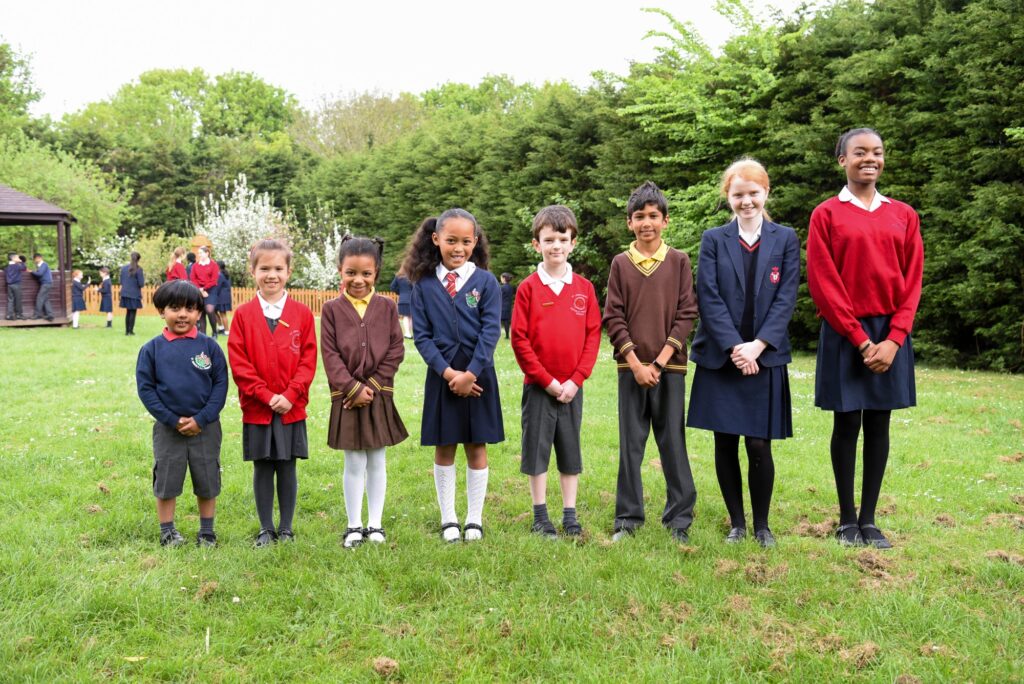 Could you describe the process of forming the BHFCAT?  How was it and what was the driving motivation?
Geraldine:  We were already in a strong position when we started talking about setting up a CAT as we had been working collaboratively as a group of schools for some time.  We set up a Partnership Board to build on those relationships; each school was represented by the headteacher, a member of the school leadership and at least one of the governors.  This enabled us to move forward together with no surprises and kept things open and collegiate.  Our main concern was for preserving the integrity of Catholic education in our community and giving it a strong united voice.  We wanted to build something sustainable that would leave a legacy.  There were also pragmatic considerations such as the financial side of things, providing greater stability for staff and helping their career development.
Chris:  I became a head in 2018 halfway through this process and completely bought into the argument that we need to do everything we can to protect Catholic education.  To me, it's obvious that if we're together, we're stronger, grouped with others with the same aims and values.  My own view, which I still hold, is that CATs underline this principle and give it a clear framework.                   
What benefits have you seen since the CAT was formed, both in general and with regard to operating during the pandemic?
Geraldine:  Working in a close and structured partnership with heads springs to mind first, with the opportunities it gives for us to plan coherently for the future.   We can share staff in targeted areas, such as MFL in the primary schools, and there are greater professional development opportunities for the staff.  Centralised financial services have become more streamlined and efficient too, and we now have an HR Officer working across the schools.  We have also had greater success with our CIF bids: we secured just under a million pounds in our first year to share across the four schools and £1.8 million after two years. 
Chris:   St Joseph's has secured hundreds of thousands of pounds via the CIF bids – first for a new roof and then for improving safety measures such as fire compartmentalisation.   I don't think this would have happened if we had all applied as separate entities.  The fact that we don't have to pay VAT is also an enormous consideration: I know it's not all about money, but it has saved us absolutely masses of cash!  On the Covid front, it was a real help knowing that we weren't alone: nobody ever is, of course, but in a Trust, we're joined and very much in it together.  We shared resources and the existence of a Trust-wide risk assessment, which we adapted rather than wrote from scratch meant that we didn't have to reinvent the wheel.    
How have things changed for the pupils?
Geraldine:  The buildings have improved, which is no minor consideration.  We have been able to enrich the curriculum.  There is also a shared view of pupils taking control of their own learning and growth mindset which we are able to embed more effectively courtesy of shared INSET.  
Chris:  The language specialists doing some work in primaries has been a real plus for the pupils, as have joint ventures such as concerts and sharing of facilities in music. 
How has your job changed since the CAT was formed?
Geraldine:  I've now effectively got two jobs, one of which (the CEO role) entails working with a new set of people on the Trust Board.  The day job – being head of Sacred Heart – hasn't changed much, but the dual role does mean that managing my time has become more of a challenge.  That said, the backfilling that that entails means that there are more professional development opportunities for colleagues.   
Chris:  Very little.  I'm still the head – still in charge and making operational decisions on a day-to-day basis.  I'm still accountable for those decisions, but to the Trust Board rather than the local authority.  The only real difference is that I can bounce ideas off fellow heads in the Trust and Geraldine.   
What advice do you have for anyone considering embarking on the process?
Geraldine:   Engage together as a group of heads about what you'd want the CAT to look like.  Forge the vision together from an early stage.  Be really clear about what the different roles and responsibilities of heads and governing bodies would be and how that should be reflected in the scheme of delegation.
Chris:   I'd say go ahead and do it!  And if you have any reservations or questions, speak to colleagues like me who have gone through the process so that you can get a real idea of what it's actually like to work within a CAT.     
The Diocese of Westminster Academy Trust is the first and largest of the Diocese's CATs, founded in 2012 and now comprising eleven schools (five of them primary and six secondary).  In the ten years of its existence, it has consistently been one of the top-ten performing medium-sized MATs nationally.  Here, its CEO, Patrick Murden, and Ciara Nicholson, the Executive Head of Our Lady Catholic Primary School in Hitchin, who also works on the Trust's central services team, talk about DOWAT's mission and the part they play in making it a reality.
Pat, could you explain the guiding vision of the Trust?
In a word, we set out to achieve excellence in the service of the Gospel and to build a better world.  That is done on the ground by like-minded headteachers and schools leaders working together in the pursuit of Catholic education.  Working together is the key: it's solidarity in action.  But that goes hand-in-hand with the key principle of subsidiarity, meaning that decisions are best taken by those who are closest to the effects those decisions will have.  This is a cornerstone of Catholic Social Teaching and because it guards against excessive centralisation, it keeps an organisation – in this cast the Trust – vibrant and energetic.
Ciara, what are the benefits of being in the Trust, both in general and with regard to operating during the pandemic?
The schools have a shared strategic vision that we're all working towards jointly.  In a general and overarching sense, that means that we work collaboratively to share best practice and shape that vision together.  Our like-mindedness creates a sense of unity and so we accelerate together.  There is no sense of isolation as we're all part of something bigger which we work to nurture.
This has really been to the fore in the pandemic, which we approached as a Trust problem rather than a difficulty for individual schools.  The Trust commissioned health and safety site visits for the schools to offer advice and reassurance about how we were going about things. We also got help from the Trust with centralised Covid policies and templates for our risk assessments.
And what benefits have there been for the pupils?
The work that I do for central services is a good example of how the pupils win out: I co-ordinate the work of subject-leads in all the schools in RE, English, Maths, Early Years and Assessment.  We meet regularly to share ideas, exemplify our work and roll out best practice across the schools.  In this way, the pupils get the best from multiple leaders.
Pat, what does your position as CEO entail?
I was attracted to the post because I saw DOWAT as a beacon of not only of academic distinction, but also as a cathedral of Catholic excellence in a much deeper sense.  So my job is all about securing the best for pupils in DOWAT schools and, by extension, securing the best for the Diocese and the Catholic sector as a whole.  In practice, this means three things: articulating the vision and achieving the mission of the Trust, upholding the best standards across its schools by supporting and challenging headteachers, and maximising the financial resources of the Trust for the benefit of all its children.

On a day-to-day basis, this means fusing the commonalities of the eleven schools' improvement priorities based on the schools' own improvement plans.  We have a mantra of 'schools-first'.  The role is very much strategic and not operational: that's for the heads, as it should be.
And how do you find your job as a headteacher within a Trust, Ciara?
 The biggest change is no longer feeling isolated at times, as there's a real sense of collaboration as part of something bigger: we feel a sense of purpose and unity as we all work for all the DOWAT pupils.  That's a big focus and it means that every school accelerates more rapidly than if it worked alone.   
 What advice do you have for anyone considering embarking on the process?
Pat:     The best articulators by far of what it's like to be in a CAT are the headteachers themselves.  They will tell you with full honesty what they've gained from being in a MAT.  I think it's also important to be clear that when you're in a CAT, that old voluntary-aided duality – co-existing in both the LA and the Diocese – vanishes away and you'll be a member of a body that realises both functions in a single organisation.  I'd say we need to be clear about that.  And finally, apply the try-before-you-buy principle: participate and join in meetings and discussions before you move on to the next step.     

Ciara:  I'd say keep an open mind and weigh up the pros and cons on their own merits as you find them, and not based on any preconceptions.  If any colleague wants to come along to our subject-lead meetings to see how they work, they'd be very welcome.