Blessed Holy Family Catholic Academy Trust
The Blessed Holy Family Catholic Academy Trust, which comprises four schools in and around Harrow – St George's, St John Fisher and St Joseph's primary schools and the Sacred Heart Language College – formed in May 2019, the first of the Family CATs to come into being following the launch of the Diocesan academy strategy in September 2017.  Its CEO is Geraldine Higgins, head of Sacred Heart.  Here, she and Chris Briggs, the headteacher of St Joseph's, talk about the formation and working of the CAT.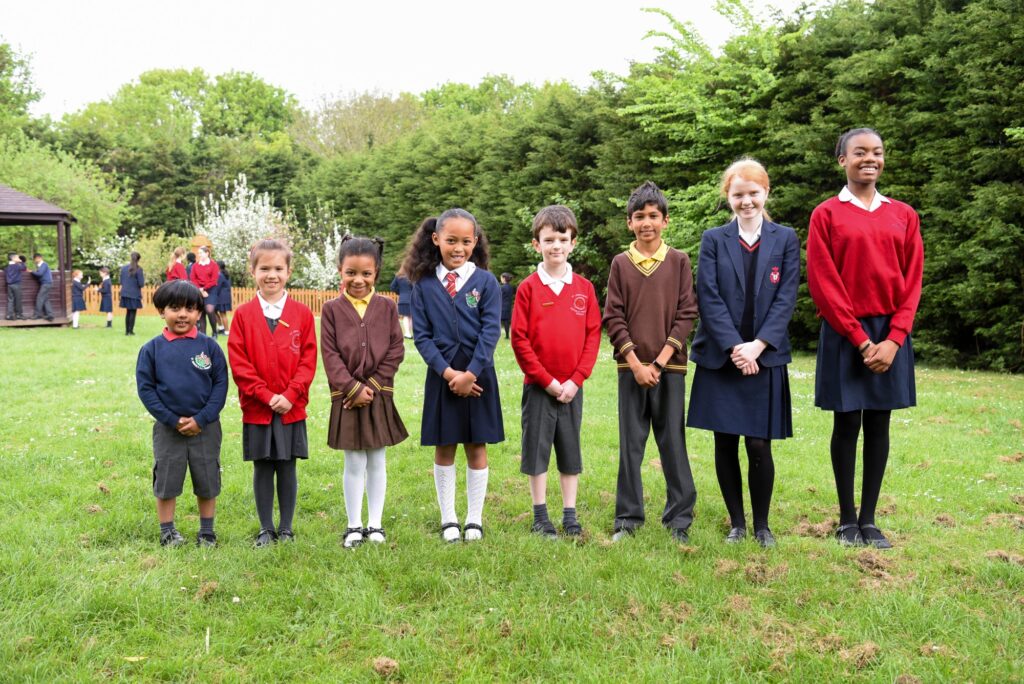 Could you describe the process of forming the BHFCAT?  How was it and what was the driving motivation?
Geraldine:  We were already in a strong position when we started talking about setting up a CAT as we had been working collaboratively as a group of schools for some time.  We set up a Partnership Board to build on those relationships; each school was represented by the headteacher, a member of the school leadership and at least one of the governors.  This enabled us to move forward together with no surprises and kept things open and collegiate.  Our main concern was for preserving the integrity of Catholic education in our community and giving it a strong united voice.  We wanted to build something sustainable that would leave a legacy.  There were also pragmatic considerations such as the financial side of things, providing greater stability for staff and helping their career development.
Chris:  I became a head in 2018 halfway through this process and completely bought into the argument that we need to do everything we can to protect Catholic education.  To me, it's obvious that if we're together, we're stronger, grouped with others with the same aims and values.  My own view, which I still hold, is that CATs underline this principle and give it a clear framework.                   
What benefits have you seen since the CAT was formed, both in general and with regard to operating during the pandemic?
Geraldine:  Working in a close and structured partnership with heads springs to mind first, with the opportunities it gives for us to plan coherently for the future.   We can share staff in targeted areas, such as MFL in the primary schools, and there are greater professional development opportunities for the staff.  Centralised financial services have become more streamlined and efficient too, and we now have an HR Officer working across the schools.  We have also had greater success with our CIF bids: we secured just under a million pounds in our first year to share across the four schools and £1.8 million after two years. 
Chris:   St Joseph's has secured hundreds of thousands of pounds via the CIF bids – first for a new roof and then for improving safety measures such as fire compartmentalisation.   I don't think this would have happened if we had all applied as separate entities.  The fact that we don't have to pay VAT is also an enormous consideration: I know it's not all about money, but it has saved us absolutely masses of cash!  On the Covid front, it was a real help knowing that we weren't alone: nobody ever is, of course, but in a Trust, we're joined and very much in it together.  We shared resources and the existence of a Trust-wide risk assessment, which we adapted rather than wrote from scratch meant that we didn't have to reinvent the wheel.    
How have things changed for the pupils?
Geraldine:  The buildings have improved, which is no minor consideration.  We have been able to enrich the curriculum.  There is also a shared view of pupils taking control of their own learning and growth mindset which we are able to embed more effectively courtesy of shared INSET.  
Chris:  The language specialists doing some work in primaries has been a real plus for the pupils, as have joint ventures such as concerts and sharing of facilities in music. 
How has your job changed since the CAT was formed?
Geraldine:  I've now effectively got two jobs, one of which (the CEO role) entails working with a new set of people on the Trust Board.  The day job – being head of Sacred Heart – hasn't changed much, but the dual role does mean that managing my time has become more of a challenge.  That said, the backfilling that that entails means that there are more professional development opportunities for colleagues.   
Chris:  Very little.  I'm still the head – still in charge and making operational decisions on a day-to-day basis.  I'm still accountable for those decisions, but to the Trust Board rather than the local authority.  The only real difference is that I can bounce ideas off fellow heads in the Trust and Geraldine.   
What advice do you have for anyone considering embarking on the process?
Geraldine:   Engage together as a group of heads about what you'd want the CAT to look like.  Forge the vision together from an early stage.  Be really clear about what the different roles and responsibilities of heads and governing bodies would be and how that should be reflected in the scheme of delegation.
Chris:   I'd say go ahead and do it!  And if you have any reservations or questions, speak to colleagues like me who have gone through the process so that you can get a real idea of what it's actually like to work within a CAT.