Aid to the Church in Need- Go to Mass for Someone Who Can't
"Go to Ma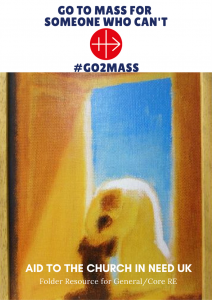 ss for Someone Who Can't (#Go2Mass)," a project for schools, colleges and universities, is a nationwide initiative to promote peace and tolerance by highlighting the plight of persecuted Christians (and all people of faith) whilst teaching young people about Mass, the Eucharist and the power of prayer.
It is a free resource for Catholic youth across the country produced by Aid to the Church in Need.
What is the "Go to Mass for Someone Who Can't (#Go2Mass)" campaign about?
Aid to the Church in Need is asking every Catholic to make the small sacrifice of going to one extra Mass to pray for one of the 200 million Christians who are facing the threat of persecution for their faith and even risking death to receive Jesus in the Eucharist. It is time for us to re-discover that "the most powerful force in human history is prayer joined to sacrifice." – St Pope John Paul II.
This simple campaign is about interceding for those suffering injustice and answering Pope Francis' call to pray for the persecuted when he reminded us that, "Today there are more [martyrs] than in the first ages – but the media says nothing about them, because it's not news." In order for young people to make a commitment to going to an extra Mass and praying selflessly for another person, they need to understand the both gravity and magnitude of religiously motivated discrimination as well as the power of the Eucharist. This resource/campaign addresses these two realities.
Students are invited to become part of a wave of prayer bringing hope to the persecuted Church. They will be asked to re-evaluate the transforming love of Jesus, which, through the Eucharist is an "intimate explosion of good conquering evil [that] can then trigger off the series of transformations that little by little will change the world." 
Resources
For further information please visit: https://acnuk.org/go-2-mass/